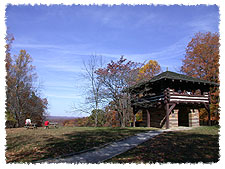 With 15,696 acres to its name Brown County State Park is the largest Indiana State Park. Located inside the park is Weed Patch Hill, which - at an elevation of 1,058 feet - is one of the highest points in Indiana.
Brown County State Park first opened to the public in 1929. Additional facilities were developed as the park became more popular. In the first few years Abe Martin Lodge, several cabins, a swimming pool, a saddle barn and Strahl Lake were constructed. The roads, entrances and many trails were also added and improved.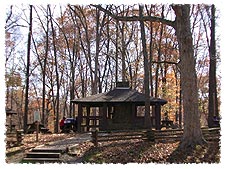 The Veteran's Civilian Conservation Corps Company 1557 began its work on June 1, 1934. They planted black locust, black walnut, various pines and spruces to help correct severe soil erosion. The CCC workers also built many of the existing buildings, shelter houses, picnic tables, ovens, roads, trails and the two log lookout towers. They cleared most of the vistas along Brown County State Park's roadways and built Ogle Lake in 1934-35.