Abe Martin Lodge operates different types of cabins to suit your various needs. Cabins are very popular, so reserve early!
Family Housekeeping Cabins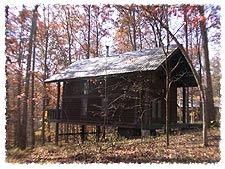 Twenty completely furnished, family housekeeping cabins (2 of which are wheelchair accessible) are available year-round. These 2-story modern cabins feature 2 bedrooms upstairs (one king bed and one queen bed) and a balcony that oversees a full kitchen and living room, complete with a wood-burning stove. The cabins can comfortably accommodate 8 people, since there are two sleeper sofas in the living room. Electric or wood heating and air-conditioning, modern bathroom facilities. Family cabins are furnished with dishes, kitchen utensils, pots & pans, linens/blankets and pillows. Easy walking distance to Abe Martin Lodge.
Cabin Suites
Abe Martin Lodge offers 12 spacious and comfortable suites furnished year round with a mini refrigerator, microwave, coffee pot, televisions, and phone. These rooms are furnished with 2 Queen beds and 1 Sofa hide-a-bed.
Rustic Cabin Rooms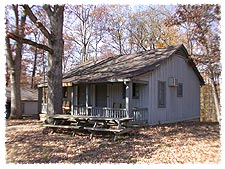 Abe Martin Lodge also offers 24 rustic sleeping cabins with a total of 56 bedrooms. Rustic cabins contain either 2 or 4 complete units. In many cases, there are connecting doors which can be unlocked to make a suite of 2 bedrooms.
The original sleeping cabins (built in 1932) are paneled, motel-style rooms with electric heat and air-conditioning, carpeting (or wood floors), color television and a bathroom with shower. Linens, towels, etc. are furnished, but there are no kitchen facilities. Some are pet-friendly.
The sleeping cabin rooms are open from April 1st through October 31st.